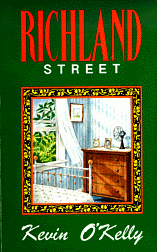 &nbsp
WORLD WAR II is over and the Korean War is just beginning. Jim Crow still reigns, but the segregationist regime is under attack by an emboldened black middle class and a few white "outside agitators."

RICHLAND STREET runs through a genteelly shabby white neighborhood. There, haunted by the ghosts of the Confederacy, live fifteen-year-old Cap Palmerston and his widowed mother: she, yearning to escape; he, determined to stay and defend the "Southern Way of Life."

CAP AND HIS BUDDIES cruise the midnight streets of the city, picking up drag races and picking fights. They dig Rhythm and Blues and sit with their white girlfriends in the balcony at "colored" dances. With their black counterparts they share tastes in music, a sense of honor, and reciprocal racial hatred.

TEENAGE SEX AND RACIAL VIOLENCE shape the rites of passage of the South's last segregated generation in this compellingly forthright novel. "Richland Street" offers a unique view into the soul of Southern oppression.